Sometimes, you just don't have the luxury of spending weeks or months developing a marketing plan. You need to get up and running quickly to attract new business and make more profit.
Whether you're a startup looking to launch, or an established business responding to a changing market, our proven process makes it possible to create a functional marketing plan after a single day of consulting. We call it your Primary Growth Plan.  Here's how it comes together…
We begin with a thorough orientation on your business.  We need to know as much as we can, as fast as we can, so that we can tailor our advice to your circumstances.  So, in the morning session and early afternoon sessions, we will ask a whole heap of questions about your history, your goals, your market, products and services, your competitors, your suppliers and your team.  We will take you through a SWOT analysis and then we'll turn those SWOTs back in on themselves and use the insights to drive some of the actions in your plan.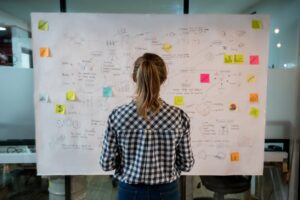 In the late afternoon session, we will compile all the insights and Quick Wins we have discovered into the first draft of your growth plan, on a whiteboard or screen.  We do it live, with you in the room so we can get feedback and make adjustments on the spot.  We apply rough costings and assign responsibilities for execution.  By the end of the workshop, you will have a clear idea of how you're going to grow.
But the plan is still only rough.  Next, we will take it back to our office and work on it for a couple of days.  We will break down all the strategies and tactics into discrete steps and rebuild the plan from the ground up so that detailed costing can be applied to it.  We will reexamine and freshly assign the responsibilities for executing it and turn the plan into a "living document" that is intended to be consulted weekly during its lifetime.
Then, we will reconvene with you in a second workshop. We will take you through the full plan, step-by-step, and discuss it in detail.  The goal is to confirm each tactic, its cost, timing and who will take responsibility for it.  This is where planning turns into action.
The final result is your Primary Growth Plan.  It is a three-to-six-month plan full of tactics that have been derived from your market insights and our experience, ready to be implemented immediately while a longer-term, data-driven plan is developed.  By the time the Primary Marketing Plan comes to an end, your Strategic Marketing Plan will be ready for launch.
That's how a functional marketing plan can be developed in a day, refined over a couple more and then approved, ready for immediate execution.
Extra reading.
If you are interested in the principles and framework that underpin your Primary Growth Plan, please read on.
1. We have to start with Clear Objectives
Before diving into strategy, it is important to clarify what you want to achieve. Are you launching a new product, entering a new market, or trying to grow more profit from current customers?  You can have more than one objective, but they must be clear for the rest of the workshop to deliver the right outcome.
Your objectives might be something like these:
Boost sales by 20% in the next quarter.
Raise your profit margin by 10%
Sell two multi-million-dollar projects
Reduce and then achieve breakeven on fixed costs
Increase social media followers by 15%.
Enhance brand recognition among a new demographic.
Establishing clear, quantifiable goals will be key as we move through the process.  You don't have to have determined these by the time we start the workshop – the first part of the morning session is where we will establish the objectives.
2. Leverage Existing Data
In a day-long workshop, there's no time to conduct new market research. Instead, we must leverage any existing data: things like customer surveys, sales reports, past campaign metrics, third party data and team member insights. This data can offer insights into customer behaviour, preferences, and pain points.  In effect, it helps to narrow the possible options for marketing activity and save time and money on trialling ineffective marketing.
3. Use SWOT Analysis
Conduct a quick SWOT (Strengths, Weaknesses, Opportunities, Threats) analysis. This provides a snapshot of where the company stands:
Strengths: What do you excel at? Perhaps you have a strong brand reputation or innovative products.
Weaknesses: Where can improvements be made? Things like a limited online presence, poor staff retention or outdated technology might fall under this heading.
Opportunities: Where are the potential areas for growth? This could be untapped markets, new product lines or pre-booked advertising.
Threats: What challenges do you face? Competitors, a changing market profile, new technology, regulations or other macro-economic factors.
Once we have your SWOT's, we turn them on each other to create action plan items.  Called a TOWS analysis, we derive strategic options using the following matrix:
| | | |
| --- | --- | --- |
|   | Opportunities | Threats |
| Strengths | Use internal strengths to capitalise on opportunities | Use strengths to minimise the impact or probability of threats. |
| Weaknesses | Determine how to overcome weaknesses by exploiting opportunities. | Create defensive tactics to minimise weaknesses and avoid threats. |
By plotting these factors and considering their interplay, we can create a comprehensive set of action that not only plays to your strengths but also counters your weaknesses, harnesses opportunities, and defends against threats.
4. Prioritise Marketing Channels
Every business has unique strengths when it comes to marketing channels. Some might thrive on social media, while others see most returns from email marketing, online advertising or a more traditional channel like radio or direct marketing. Based on our experience and your objectives, we will prioritise the channels that align best with your target audience and budget.
5. Quick Wins vs. Long-Term Strategies
An intensive planning day always results in Quick Wins.  These are low to no-cost items that can be implemented quickly without requiring a detailed cost/benefit analysis.  They mean that action to grow your business can start straight away without waiting for the development of a long-term strategic plan.  Changes to pricing, product or service bundling, new sales techniques, improved advertising, website tweaks, updated procurement policies and many more are the kinds of Quick Win you can expect.  Often, the value of your Quick Wins offsets a substantial part of your investment in us.
As part of your Primary Growth Plan, we are likely to recommend longer-term strategies that require more time and resources, such as detailed customer and competitor intelligence-gathering.  This information will allow us to determine or create your long-term competitive advantages.  When you allow time and space to conduct effective research and then turn the insights gathered into well-derived strategic plans, the return on investment is typically better and it is achieved faster than by engaging in marketing activities on a "best guess / best intentions" basis.
6. Allocate Budget
After defining strategies and channels, allocate your budget. Ensure it aligns with your objectives.  If funds are tight, be prepared to invest a significant portion of what is available in just one or two actions that represent the best potential.  There will still be Quick Wins that can be implemented for low to no cost alongside your primary investments.
7. Set Clear KPIs
Once the strategies are in place, define key performance indicators (KPIs) to measure their success. KPIs might include the overall measurement metric: new sales, or leading indicators of future sales like website traffic, enquiry rates, or the production of quotes.  Identifying suitable KPI's to evaluate success and enable a "repeat or replace" decision to be made is key ot continually improving your marketing plan.
8. Consultancy Bonus: External Insights
Engaging with Corporate Momentum provides the advantage of external insights. Our consultants bring a fresh perspective, often noticing opportunities or challenges that internal teams might overlook. Our expertise allows for best practice recommendations and innovative solutions that can enhance the ROI from your marketing plan.
9. Draft and Refine
The first draft of your marketing plan (which we call your Primary Growth Plan) is done in a single day.  It is important though, to take a few days to refine it.  Reflecting on our day together often delivers new short and medium-term tactical insights that become part of your plan.  It takes a few days to add accurate costings and check assumptions with you, so that when we reconvene for our second, shorter workshop, you are presented with a polished plan that is suitable for its job, which is to grow your profit in the short term while a longer term plan comes to life.
10. Action and Adaptation
The true test of any marketing plan is its execution. We will implement your strategies, monitor progress, and be prepared to adapt. Your market is dynamic, and flexibility is the key to closely matching your available marketing funds to what we learn from real-world execution.
While a day might seem like a limited time to build a marketing plan, with our expertise and proven process, it is entirely possible. The key is to stay focused, leverage existing data, prioritise, and be prepared to adapt as we all learn from the results. A single day together generates fresh perspectives, unearths innovative solutions, and sets the stage for your marketing success.